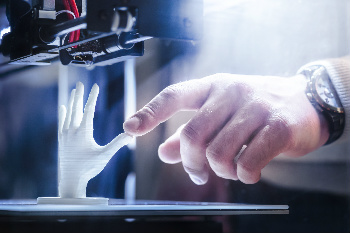 Each year in the United States approximately six million people break a bone. Most of these injuries end up with that individual walking around with a heavy cast of fiberglass or plaster to assist in their healing. This has been the established treatment for quite some time now.
The commercial world of completely customized individual products is moving to the medical industry in a big way.
Just over the horizon is the next step in casts thanks to the technology of 3D printing.
Traditional casts are bulky, unwieldy and have a tendency of generally being an annoyance. 3D casts plan on taking away the bulk of that annoyance from the patient.
3D casts are plastic structures that are mostly open air and very light weight. Don't let that fool you -- these are custom designed specifically for your body and your particular injury and provide precisely the support that you need to aid in your healing process.
Since these casts are breathable there will be an obvious improvement in hygiene and your doctor's ability to actively assess your skin health, re-dress your wounds, and more easily monitor your improvement without having to saw off a plaster cast.
These casts will be particularly helpful to geriatric patients as their skin tends to be much more fragile and suffers numerous adverse effects when underneath a mini greenhouse of plaster.
Due to the generally decreasing costs of 3D printing this will become a more affordable alternative as well.
Now that 3D casts have served as a jump-off point in the realm of medical science, we anticipate that 3D printing will be expanding into various other realms as well, including artificial limbs, bones and joints.
We anticipate that the days of showering with your hand in the air, out of the water, and using random objects such as spatulas to scratch that annoying itch under your cast will be gone soon.